Sod Installation in Mount Pleasant, SC
Sometimes, you just don't want to deal with the hassle of seeding or the stress of hoping that your lawn actually sprouts. We get it. In those cases, turn to Coastal Turf and our sod installation in Mount Pleasant. We only use the highest quality sod, sourced from reputable growers to make your dream lawn a reality. No matter what challenges your yard has in store for our sod installation specialists, we've got grass that will work for you. 
Our sod installation includes:
A thorough inspection of the sod installation area. 
Soil analysis to see which sod variety will be most successful in your yard.
Leveling and re-grading when required.
Total area prep, including soil treatment, fertilizers, and watering. 
Irrigation service after installation.
Follow-up visits.
Guaranteed satisfaction
And more!
Image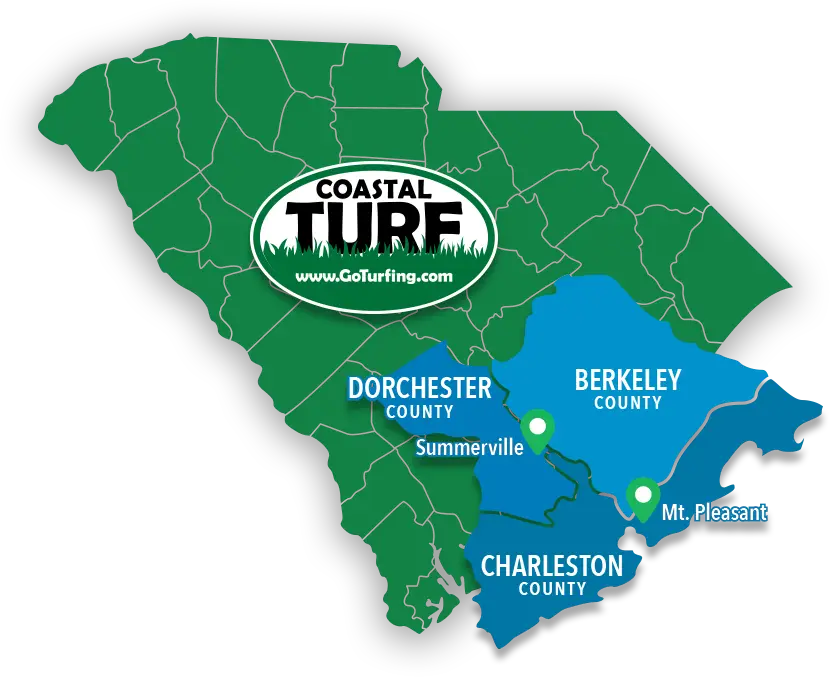 Sod Installation Process
We understand that your grass is an investment, and it pays to do it right. That's why our sod installation process always begins with the best quality materials and practices including:
Kill or Remove Vegetation: We begin by using a sod cutter. We use this to kill or remove weeds without disturbing the soil.
Fill in Depressions: Next, we add soil if necessary to fill in the depressions and achieve a more even look. We also make sure to compact the soil down for a strong and even foundation.
Eliminate Debris: We then eliminate debris from the site. Our team will rake up and remove all stones, roots, twigs, and other debris that may be present.
After Care: After sod installation is complete, we collaborate with you to ensure your new grass thrives. We provide watering and care instructions to help you manage your irrigation system and verify water amounts. We'll also be here to answer any questions you may have so that you can get the most out of your new lawn.
When Should Sod Be Installed In Mount Pleasant, SC?
The best time to lay sod in Mount Pleasant is during late summer and early fall when temperatures are cooler. Spring is the next best time for warm-season grasses, such as centipede, zoysia, Bermuda and St. Augustine grasses that become dormant in the winter. Our team of experts will make sure your project goes smoothly and that all the sod is installed correctly to provide you with a lush, healthy lawn for years to come.
Free Quote Available
Contact us today for a free quote on sod installation services. With our expertise and commitment to quality, you can be sure that your lawn will look its best in no time. We also offer maintenance services to ensure that your new sod stays looking great for many years to come. Get in touch with us today and we'll help you get started on the path to a healthier, better-looking lawn!
Sod vs Over-Seeding
Laying sod is often the best option for quickly and effectively repairing or replacing an existing lawn. It can be installed in a fraction of the time it takes to establish a lawn from seed while using less water and providing better erosion control than over-seeding. Sod also immediately provides a beautiful, mature lawn that needs no further mowing until after it has been established.
Satisfaction Guaranteed
Whatever your project's size or scope, we guarantee quality results. If you are unhappy with your service, we will return to make it right!