What kind of problem are you having? Select all that apply.
Lawn Care in James Island
Welcome to Coastal Turf, your local lawn care services provider on James Island, SC. With over 18 years of experience, we have been dedicated to delivering exceptional lawn care and outstanding customer service in the Greater Charleston Area. Allow us to show you why we are the most reliable and innovative lawn care provider in the state.
Our comprehensive lawn care services include:
Lawn care
Lawn fertilization
Weed control
Aeration
Sod installation
Tree & shrub care
Don't let the harsh James Island climate take a toll on your lawn. Experience the difference that our trusted and reliable lawn care services can make. Contact us today for a beautiful and healthy lawn that will turn your house into a home.
Services We Provide in Your Area
Image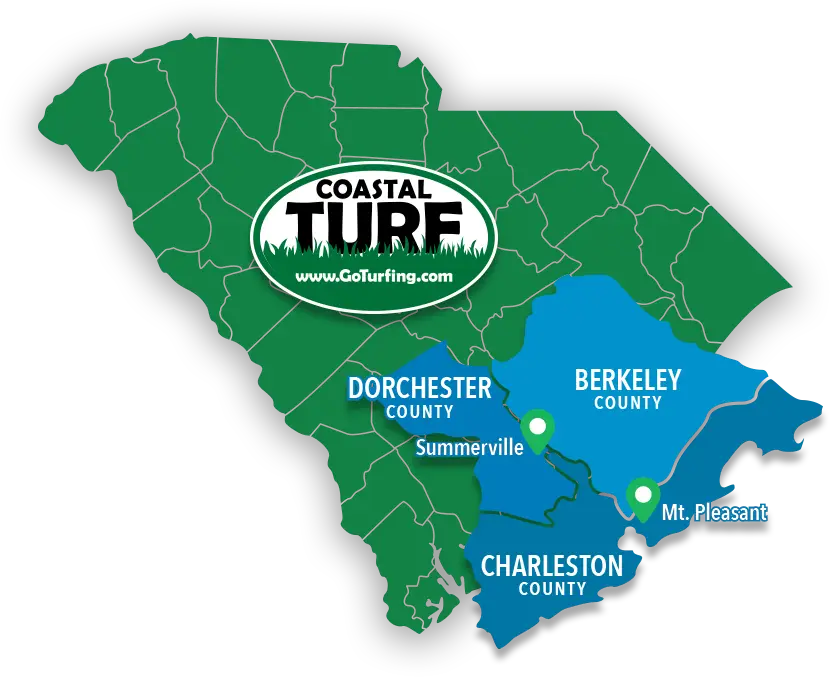 Local Lawn Care Services Near You
Don't settle for a lackluster lawn – let Coastal Turf transform your outdoor space into a stunning oasis of beauty and vitality. Discover the power of our premium lawn care services in James Island and unlock the full potential of your lawn today! Our lawn care services include:
Thorough Lawn Inspection: Our skilled lawn care technicians will conduct a comprehensive inspection to identify any issues such as brown spots or thinning grass that may be hindering the health of your lawn.
Pre & Post Emergent Treatments: With our environmentally friendly lawn care program, we provide precise pre and post-emergent treatments to prevent and eliminate pesky weeds, ensuring a healthy and vibrant lawn.
Customized Lawn Fertilization Applications: Based on the soil analysis of your lawn, we tailor our nutrient-rich fertilizer applications to promote root growth and ensure optimal nutrient uptake, resulting in a robust and flourishing lawn.
Effective Weed Control: Say goodbye to unsightly weeds! Our expert weed control methods target weeds efficiently, leaving your lawn weed-free and beautifully maintained.
Pet and Family-Friendly: We understand the importance of keeping your loved ones safe. Our lawn care treatments are designed to be safe for your family and pets, allowing them to enjoy a healthy and beautiful lawn without any worries.
Call us now for a free lawn inspection and consultation. Let's make your dream lawn a reality!
Weed Control in James Island
Are you tired of battling persistent weeds in your James Island lawn? Look no further! Our environmentally- friendly weed treatments and year-round weed control will keep your grass looking lush and weed-free all year long.
Why choose our weed service in James Island?
Highly-trained technicians: Our lawn care team is experienced and goes through continued training to stay up to date on the latest industry standards. Rest assured, your lawn is in the best hands in the area.
EPA-Approved Formulas: We use safe and EPA-approved formulas to keep your family and the environment protected while effectively getting rid of unwanted weeds.
Ongoing Monitoring: We don't just treat your lawn once and leave. We provide ongoing monitoring to ensure that your lawn stays weed-free and healthy.
Customized Control: Our lawn spraying techniques target specific weeds, such as crabgrass, nutsedge, dandelion, clover, chickweed, thistle, and more, commonly found in James Island, SC. We prevent weeds from germinating with pre-emergent treatments and manage existing problems with post-emergent treatments.
Year-Round Treatments: We offer pre-and-post emergent treatments for every season. From late-summer treatments for fall weeds to treatments for late-emerging and pre-emergent spring weeds in fall and winter, we have your lawn covered all year round.
Don't let weeds ruin the beauty of your lawn. Contact us today to schedule our professional and effective weed treatment service. Unlock the power of a weed-free lawn with our dedicated team and environmentally-friendly solutions!
Aeration in James Island
Discover the secret to achieving the lawn of your dreams with our revolutionary liquid aeration technology. Say goodbye to stubborn soil and hello to vibrant, healthy turf. Our expert team at Coastal Turf is here to deliver exceptional results and transform your outdoor space into a lush paradise.
Why Choose Our Lawn Aeration Service in James Island?
Promotes Healthier Turf: Our advanced liquid aeration technique effectively removes excess thatch and allows your lawn to breathe. By creating channels in the soil, we enhance the flow of essential nutrients, air, and water, promoting optimal growth.
Quick Results: With our liquid aeration process, you don't have to wait for months to see the effects. Experience noticeable improvements in your lawn's appearance, texture, and overall health in no time.
Long-Lasting Treatments: Our dedicated team ensures that our liquid aeration treatments have long-lasting benefits. We focus on improving the root systems, empowering your turf's ability to absorb nutrients and withstand harsh conditions.
Greater Rooting: Our innovative technique encourages deeper root growth, allowing your grass to establish a strong foundation. With stronger roots, your lawn becomes more resilient, and capable of withstanding stress, drought, and disease.
Deeper Nutrient Release: By breaking up compacted soil, our liquid aeration opens up pathways for essential nutrients to penetrate deeper into the root zone. This provides your turf with the nourishment it needs to thrive and maintain its vibrant green color.
Don't miss out on the opportunity to transform your outdoor space into a picturesque landscape. Our lawn aeration service in James Island guarantees outstanding results and an envy-worthy lawn.
Sod Installation in James Island
Transform your lawn with Coastal Turf's premier sod installation service in James Island. Our team of experts is committed to providing you with a beautiful, healthy lawn that will make your home or business stand out. Skip the hassle and uncertainty of starting from seed and let us take care of everything for you. With our sod installation service, you can expect:
Comprehensive Evaluation: We perform a thorough assessment of your installation area to ensure the right approach for your unique needs. Leave it to our experts to determine the perfect grass for your specific soil conditions.
Soil Testing and Treatment: With our in-depth soil analysis, we identify any deficiencies or imbalances and provide targeted treatments to optimize your soil's health. This ensures optimal growth and long-term vitality for your sod.
Professional Leveling and Grading: Our experienced team will re-grade and level the area if necessary, leaving you with a smooth, even surface. Say goodbye to unsightly dips or uneven terrain.
Complete Aftercare: We don't stop once your sod is installed. Coastal Turf offers comprehensive aftercare services, including lawn management and regular follow-up visits. We equip you with all the information and instructions you need to help your new grass thrive.
Tree and Shrub Care in James Island
At Coastal Turf, we understand the true value of a stunning and vibrant ornamental landscape. Our goal is to turn your yard into a breathtaking masterpiece by providing top-notch tree and shrub care in James Island.
Why choose us for your tree and shrub service?
Environmentally-friendly treatments
Year-round tree care
Protection from diseases and insects
Ongoing monitoring
Why is tree and shrub care essential?
Common persistent diseases: James Island, SC, is prone to tree and shrub diseases such as root rot, blight, and powdery mildew. Our expert knowledge and experience allow us to identify and treat these diseases to protect your plants.
Increased property value: A well-maintained yard with mature ornamentals can significantly boost your home's resale value. Studies show that a healthy landscape with established trees and shrubs can increase property value by up to 20%.
Trust Coastal Turf for all your tree and shrub care needs in James Island. Our team of professionals is committed to providing exceptional service that ensures the longevity and beauty of your ornamentals. Take the first step towards a remarkable yard.
Mosquito Control in James Island
Don't let mosquitoes ruin your outdoor experience in James Island, SC. Take control of your yard with our specialized mosquito control services. Here's what you'll get when you choose Coastal Turf:
Free inspection: We'll assess the size of the mosquito population in your yard to tailor a treatment plan specifically for you.
Fogging: Our highly-trained professionals will target the mosquito breeding areas with our effective fogging technique, ensuring maximum effectiveness.
Family-friendly liquid sprays: Rest easy knowing that our treatments are safe for your loved ones, including children and pets.
Larvicides in targeted areas: We take a proactive approach by using larvicides in specific areas of your yard to eliminate mosquito larvae before they become a problem.
James Island's climate and geography create the perfect environment for mosquitoes to thrive. That's why our mosquito treatment is essential for your outdoor oasis. With our recurring treatments every 3-4 weeks, you can enjoy your yard all season long. And if you have a special event coming up, our one-time treatment option is perfect for ensuring a mosquito-free experience.