What kind of problem are you having? Select all that apply.
Lawn Care in West Ashley
Your lawn is so much more than just a stretch of grass in front of your home. Consequently, it requires a level of upkeep that you may not be able to provide on your own. If the hours in the day just aren't there but you still want the best looking grass possible, turn to our lawn care in West Ashley! With skilled, experienced technicians and the Lowcountry's most dependable service on your side, you can finally get the lawn of your dreams. Give your lawn the help it deserves and sign up for a plan today. 
Our lawn care service includes:
A full inspection of your yard to assess your particular needs.
FREE soil analysis from an experienced professional. 
Personalized fertilizer blends to provide your lawn with maximum nutrition all year.
Protection against diseases, fungi, and pests.
Easy and flexible online payments. 
Our 100% satisfaction guarantee with FREE re-treatments if you aren't satisfied.
And more!
Services We Provide in Your Area
Image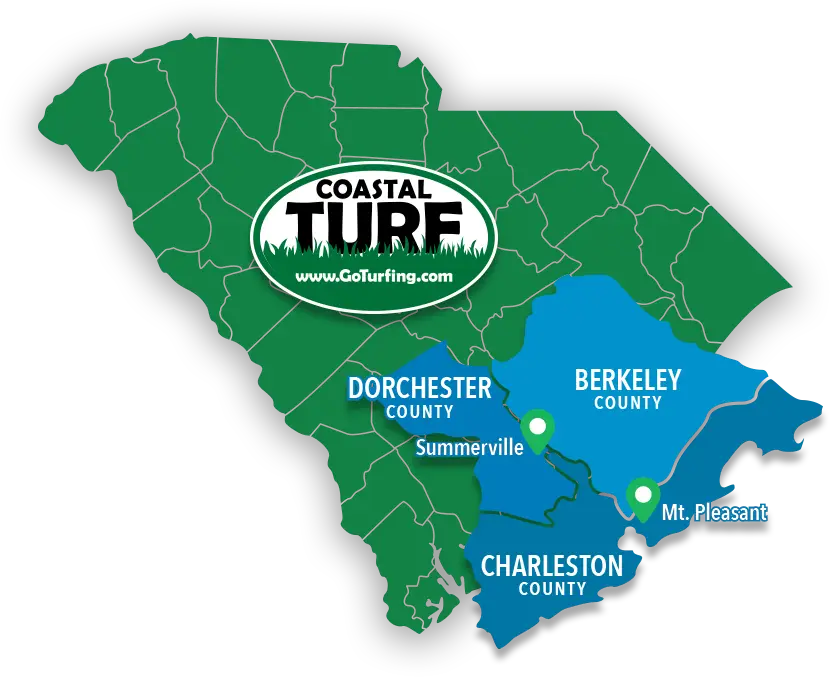 Weed Control in West Ashley
Pulling weeds up by hand is back-breaking, and store-bought weed killers often do more damage to your grass than anything else. If you're looking for a way to get rid of unwanted weeds like nutsedge and crabgrass, trust our weed control in West Ashley. We offer recurring visits, one-time treatments, and no-contract options to ensure there's a plan for everyone!
When you partner with us for weed control, we will:
Use EPA-approved solutions that are both effective and safe.
Apply pre-emergent products to stop weeds from sprouting.
Eliminate existing foliage using post-emergent treatments.
Sod Installation in West Ashley
It takes a lot of time and effort to grow a lawn from scratch. But choosing sod installation over seeding isn't just about convenience. At Coastal Turf, our expert lawn care technicians in West Ashley believe strongly in sod installation for its many benefits. Sod needs less water to sustain itself, prevents soil erosion, and creates a denser lawn right away. When you partner with us, you can expect our sod installation services in West Ashley to include:
A complete evaluation of the installation site.
Soil analysis to provide the right grass for your lawn's needs.
Extensive preparation, including fertilization and soil treatments.
Re-grading and re-leveling as needed.
Aftercare including follow-ups and lawn management 
And more!
Liquid Aeration in West Ashley
Liquid aeration is one of the most important maintenance tasks as it will provide a much healthier, greener lawn if done properly. Aeration is the process by which your dense soil is broken up, and any thatch or debris is suitably dealt with. If you're in need of complete liquid aeration in West Ashley, look no further than Coastal Turf with services you can count on. Our benefits will provide your lawn with: 
Increased water, oxygen, and nutrient uptake through the root system. 
Decrease in standing water gathering on the lawn.
Increased lawn resistance to disease and fungus. 
Covering your entire landscape
No cores left atop of your lawn
Rodent repellent due to soil turnover. 
Liquid Aeration Whenever You Need It
Liquid aeration is one of the key services that our team at Coastal Turf Care is happy to provide to our clients. As a locally owned lawn care company, we recognize that all of our neighbors lead busy lives, and yard care can sometimes fall by the side and get left unattained. Accommodating our clients' lives is very important to us! We also provide lawn care to Charleston and the surrounding areas.
Tree and Shrub Care in West Ashley
Your lawn is a guest's first impression, so why wouldn't it need special attention? At Coastal Turf, we provide unique care to your ornamentals to ensure they grow healthy and strong. We have a team of skilled tree care specialists who are committed to their craft, and carefully service each and every one of your shrubs with passion. Everyone wants their lawn to look the best it can, but did you know that good-looking ornamentals can increase the value of your home as well? Our tree and shrub care service has your back, and we are confident that you'll be the envy of the neighborhood after each visit. 
As a trusted tree care provider, we offer: 
A thorough inspection of your lawn.
A customized treatment plan to keep your ornamentals healthy and thriving.
Seasonal service to help your trees and shrubs stay in tip top shape, all year round.
Disease protection.
And more!
Solutions Customized to Your Needs
At Coastal Turf, we are proud to offer custom tree fertilizer solutions depending on your needs. Our specialists analyze your soil in depth to determine exactly what its nutritional needs are, so we can proceed with the proper course of treatment. Every lawn is unique, and we believe it should be treated as such. Our team takes pride in making sure you are 100% satisfied, and we aim to get you to a place where you feel over the moon about referring us to your friends. Looking for a team that treats you as their only customer? Call us today!