What kind of problem are you having? Select all that apply.
Lawn Care in Mount Pleasant
No two lawns are alike. It seems obvious but so many lawn care companies believe that a cookie-cutter approach works. Not Coastal Turf, though. Our lawn care in Mount Pleasant addresses your lawn's unique needs using a data-driven approach. Our lawn service specialists will have your grass in tip-top shape by treating it from the ground up. For results you can count on, look no further. 
Our lawn care in Mount Pleasant includes:
A full inspection of your yard to assess its needs. 
Customized fertilizer blends that address the specific growth and nutritional challenges of different seasons. 
Total protection from disease, pests, and fungi. 
Guaranteed satisfaction and FREE re-treatments if needed.
Simple payment options.
And more!
Soil Analysis for Customized Treatment
At Coastal Turf, our lawn service begins with an analysis of your yard's soil. After all, without healthy soil, your lawn doesn't stand a chance. By seeing what's going on, molecularly speaking, we create a customized nutrition plan, complete with bespoke fertilizers. We don't rely on gut feelings or hunches but on hard data that achieves the results you want. 
Services We Provide in Your Area
Image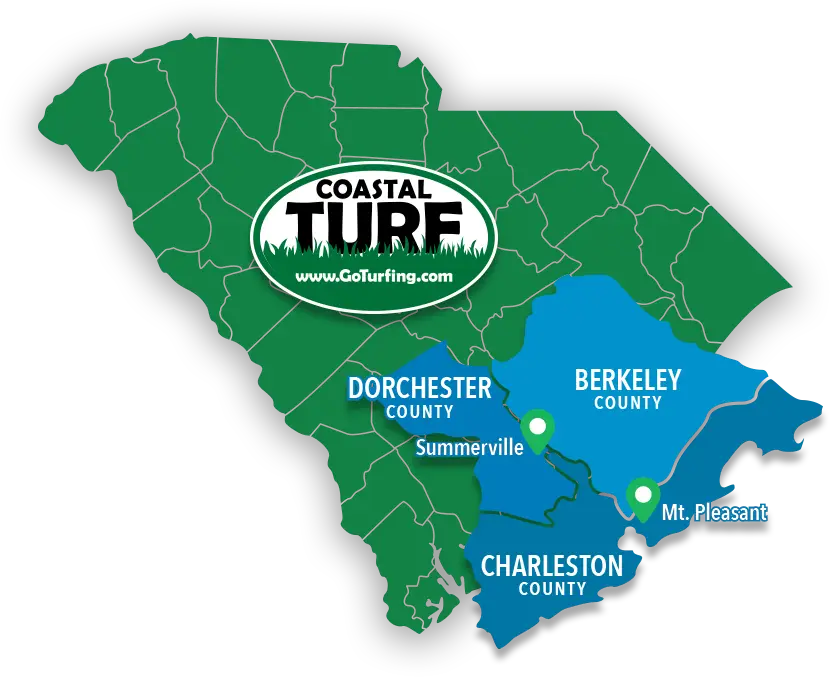 Liquid Aeration In Mount Pleasant
We all need a deep breath sometimes and your lawn is no different. Put simply, that's the idea behind our liquid aeration in Mount Pleasant. In addition to helping your lawn breathe, our liquid aeration accomplishes so much more. This critical lawn service is essential to its year-round health and shouldn't be performed by anyone except the experts. This year, set your lawn up for success with the aeration that it needs to thrive.
Benefits of liquid aeration include:
Improved water and nutrient uptake.
Increased soil oxygen levels.
No marking of irrigation lines
No disturbance to your pre-emergent barriers
Reduce levels of standing water and by extension, disease and fungus.
Healthier, stronger grass.
And more!
Tree and Shrub Care in Mount Pleasant
If a green lawn is the foundation of a beautiful yard, mature trees, and shrubs are what give it character. So, when it comes to keeping your ornamentals healthy, you can count on the pros at Coastal Turf. Realtors estimate that a yard full of mature ornamentals can increase your home's resale value by as much as 20%. This means that taking care of your trees and shrubs is less lawn care than it is an investment in your home. Treat it like that and let the experts put money in your pocket!
Our tree and shrub care includes: 
An exhaustive inspection of your yard.
Carefully tailored treatment to help your trees and shrubs thrive.
Seasonal care to help your ornamentals adapt to the changing weather.  
Protection against insects, disease, blight, rot, and even drought.
Guaranteed Satisfaction.
And so much more!
Weed Control in Mount Pleasant
Pulling weeds by hand is tiresome work, and store-bought weed killer often does more damage to your grass than anything else. Instead of struggling on your own, trust our weed control in Mount Pleasant. We offer recurring and one-time treatments that quickly eliminate crabgrass, clover, dandelions, and more!
Our weed control in Mount Pleasant includes:
Custom treatment based on your property's current condition.
EPA-approved products that are tough on weeds but safe for your family.
Pre-emergent treatments that stop weeds from germinating.
Targeted treatment of existing weeds.
Reliable weed prevention without a contract.