Lawn Care in Charleston
Here in Charleston, we're blessed with beautiful scenery and tropical weather. While that makes for a wonderful place to live, it can make getting your dream lawn difficult. At Coastal Turf, we specialize in caring for grass in our unique climate zone and helping you achieve the results you want. No matter the time of year, our lawn care services provide your grass with expert, tailored care including:
A full grass inspection and soil analysis to determine the right strategy for you. 
A lawn fertilizer treatment plan based on your lawn's unique needs. 
Prevention from weeds, insects, and disease.
Liquid aeration. 
And much more!
Customized Fertilization Solutions
At Coastal Turf, we understand that home and business owners in Charleston take pride in their yards and outdoor living spaces. We also know that proper yard maintenance requires a lot of hard work, consistency, and, most importantly, time. If you're tired of wasting precious weekend hours tending to your grass, beds, and gardens, Coastal Turf can help with the best lawn fertilization. We offer high-performing, comprehensive lawn maintenance solutions designed specifically to help your Charleston property flourish.
Benefits of Fertilizing Your Lawn
We are committed to helping you create a beautiful, healthy lawn with minimal effort. Our team of experienced professionals can help your lawn look great and stay healthy for years to come. Here are a few benefits you can expect when you choose us for fertilization:
Maximize the health and growth of grass, plants, and trees.
Strengthen roots and improves resistance to disease.
Promote greener and thicker lawns to give your property a lush look.
Enhance the soil structure for ease of mowing, maintenance, and overall health.
Improve turf performance with fewer weeds and better color.
Get Your First Lawn Treatment For $29.99
Affordable, No-Hassle Service
When you choose to work with us, you'll never have to be locked into a contract. We offer one-time services as well as recurring plans so that you can get exactly what you need as easily as possible. In addition, we offer online payments and simple, automated monthly billing to ensure an easy, flexible experience from start to finish. Our lawn care services start at only $39/ treatment, keeping a gorgeous fertilized lawn affordable all year.
Contact Us For Quality Lawn Care
Year-Round Lawn Care to Fit Your Needs
The weather can turn on a dime here, and each of our seasons presents your yard with a different challenge. At Coastal Turf we provide your lawn with year-round lawn care in Charleston, adapting our strategy to the season to ensure sustained, healthy growth and proper fertilization. We take different treatment approaches depending on the time of year to prevent your grass from being overgrown, including:
Spring Lawn Care
Root stimulation to promote new growth.
Nutrient-rich lawn fertilizer treatment.
A full inspection to prevent weeds and overgrowth. 
Crabgrass prevention.
Summer Lawn Care
Insect treatments, including fire ant and mole cricket prevention.
Lawn fertilizer application and weed treatment.
Control release fertilizers to promote color and density.
Disease control and treatment.
Late-Summer pre-emergent treatment for Fall weeds.
Fall and Winter Lawn Care
Tailored fertilizer blends to promote root growth and nutrient uptake.
Treatment for late-emerging weeds and pre-emergent spring weeds.
Maximization of your lawn's cold weather tolerance. 
100% Satisfaction Guaranteed
At Coastal Turf, our job isn't done until you're happy. We stand by our service and guarantee you a green, healthy, fertilized lawn that you'll love. But if you're not happy with our service for any reason, we'll continue to work until you are. Or, if you prefer, we'll refund the cost of our latest treatment. Your happiness matters to us and we'll do whatever we can to make your dream yard a reality. 
We Treat A Wide Variety of Southern Lawn Fungus
Fortunately, here in Lowcountry, home and business owners don't have to simply endure an unsightly, sickly yard full of fungus. Partnering with Coastal Turf, South Carolina's go-to resource for all things lawn care is the first step in reversing your dull, damaged, and deteriorating turf. We offer innovative, effective treatments and solutions that target unwanted fungus to revitalize your property and bring it back to life.
Coastal Turf's team of trained lawn care specialists treat a wide range of common lawn fungi including:
Brown Patch
Dollar Spot
Gray Leaf Spot
Large Patch
And More!
Coastal Turf uses the very latest equipment, strategies, and techniques to quickly and effectively stop the spread of disease throughout your residential or commercial properties. No matter what's plaguing your lawn, Coastal Turf will develop a versatile solution, using premium quality products and cutting-edge equipment that puts your yard back on track to health and longevity. 
Locally Owned Lawn Care Company
As a locally-owned lawn care company, we're proud to serve our community. To us, community involvement doesn't stop at providing lawn care. Our involvement with Project Evergreen to provide free lawn care to deployed military personnel is one of our great passions. We believe that everyone deserves to have a great yard and giving them to members of our community is a privilege.
Image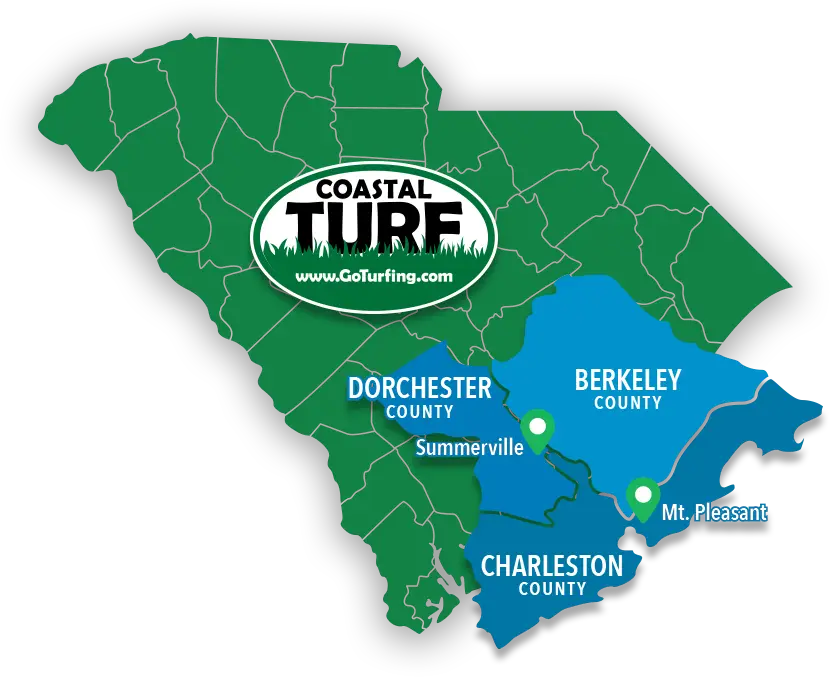 Areas We Service in Summerville
Coastal Turf provides expert lawn care across the Lowcountry region with a specific focus on the Greater Summerville Area. We're constantly innovating to meet our region's unique needs and proudly serve the following cities: