What kind of problem are you having? Select all that apply.
Lawn Care in Isle of Palms
Anyone who's lived in the Lowcountry for a while knows that growing a lawn down here is fraught with challenges. Our high humidity, hot summers, and native pests can take down even the healthiest lawn, making professional care a must-have. But, with our lawn care in Isle of Palms, you'll finally have that healthy, green lawn that you've always wanted. We adapt our services to South Carolina's volatile seasons to provide your yard with the best care it can get all year-round. To get your lawn in tip-top shape, our team of technicians will provide:
A FREE inspection and soil analysis to determine exactly how we can help.
Custom-designed fertilizer blends based on your lawn's needs.
And more!
Guaranteed Results For Your Satisfaction
Here at Coastal Turf, we know that you don't want to waste time on a lawn care company that can't get the job done. That's why each of our services is backed by a 100% satisfaction guarantee! If you're unhappy with our service for any reason, our lawn care technicians from Charleston will return and perform all necessary retreatments at no extra cost to you. Or if you prefer, we can give you a full refund so you can proceed however you choose. Either way, we want you to feel confident in our service so we go the extra mile to make sure that you're happy.
Services We Provide in Your Area
Image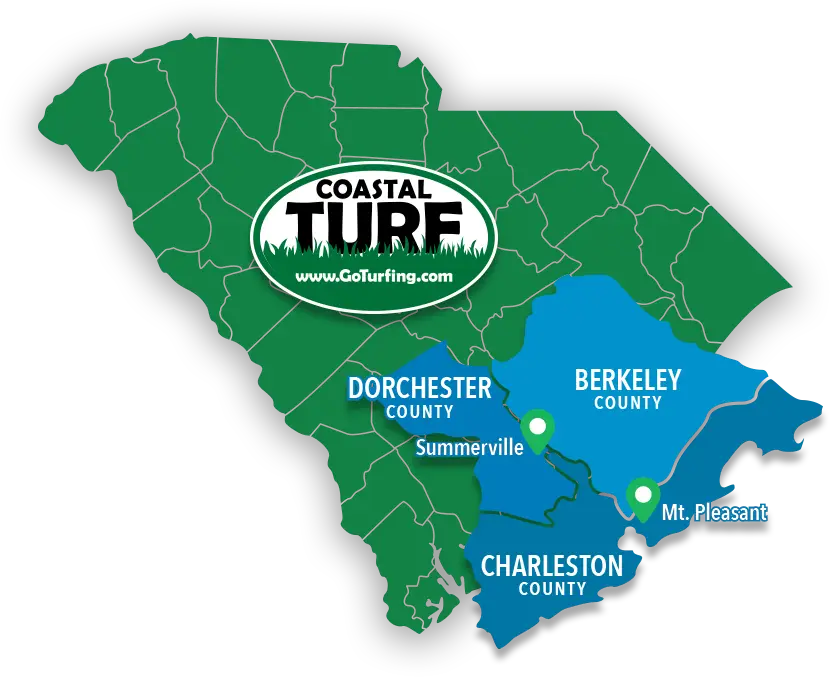 Liquid Aeration in Isle of Palms
Very often, the difference between a healthy and an unhealthy lawn is proper aeration. It can be easy to overlook but our liquid aeration on Isle of Palms may be the single most important service that we offer! Our aeration experts bring years of experience and intensive training to your yard so that you can count on them to properly carry out such an important process. You won't find better liquid aeration in all of the Lowcountry so let us show you the difference that it can make. 
Benefits of proper aeration include:
A reduction in the level of standing water on your lawn.
Fewer instances of disease and fungus.
Increased access to groundwater and nutrients. 
Higher levels of oxygen through soil fractures to increase root growth. 
Aerating every spot of your lawn instead of the mechanical method which can only aerate limited areas.
Greater resistance to disease, fungus, pests, and weeds.
Sod Installation in Isle of Palms
Do you have big dreams for your lawn, but don't have enough time to make it happen? We're here to step in! Attempting to lay sod yourself can seem like a daunting task, but luckily Coastal Turf can help. Using only the highest quality blend, we have a track record of delivering nothing but extraordinary results to our customers. Regardless of where your lawn's issue lies, our team has just the right solution to turn your current situation into your dream lawn!
When you work with our sod installation specialists, you'll experience:
A detailed inspection of the area in which sod installation is needed.
A thorough analysis of your soil to determine the best course of action for you.
Leveling and re-grading on a case by case basis.
Soil treatment, fertilizers, and watering.
Irrigation treatment after we install sod.
Follow-up visits to ensure you're satisfied.
And more!
Service with Ease
We're committed to providing the help you need, when and where you need it. We operate on a hassle-free model, so that you can feel at peace working with us. Not quite sure if you're looking to commit to an annual agreement? No worries. Because every situation is unique, we offer the option of one-time treatments as well. To make it even easier for you, we've implemented effortless payment methods, including online and auto payments. If you're looking to team up with the sod installation experts, you'll be glad you've chosen us.
Weed Control in Isle of Palms
A beautiful and vivid yard is something everyone wants to have, but it can seem like too much effort. The weeds grow in your lawn so fast it can seem never-ending. Fortunately, you can leave your weed control to the professionals in Isle of Palms.
Year-round weed control has never been easier with Coastal Turf by your side! Our expert technicians have extensive training so they know how to handle what your yard has grown in it. We use the best weed killer to make sure your yard is pristine and eye-catching with no unsightly spots to see. Our weed control gets rid of common weeds in Isle of Palms as well as fighting pre-emergent weeds so we can get them out of your yard before they even get established. Our weed control services can kill weeds such as: 
Crabgrass
Clover
Dandelions
Ragweed
Chickweed
And more! 
Tree and Shrub Care in Isle of Palms
While a lawn may be the first thing that is noticed in your yard, your ornamentals are just as, if not more, important. Expert tree care is one of the most important investments you can make in your home—in fact, well-cared-for ornamentals can increase your home's value by up to 20%! 
That's why you want the best service from an experienced company like Coastal Turf. When you contact our team of experienced tree technicians, you can expect:
A full landscape inspection.
A carefully designed, custom treatment to promote growth.
Care that adapts to the seasons to keep your ornamentals at peak health.
Protection from all forms of danger - including disease, drought, blight, rot, and insects.
Satisfaction guaranteed.
And more!