What kind of problem are you having? Select all that apply.
Lawn Care in Myrtle Beach
Welcome to Coastal Turf, your local lawn care services provider with over 18 years of experience. We understand that maintaining a beautiful lawn in Myrtle Beach, SC can be a challenge due to the unique climate. But worry not, we've got you covered with our comprehensive range of lawn care services.
Here's what we offer:
Lawn care
Lawn fertilization
Weed control
Aeration
Sod installation
Tree & shrub care
At Coastal Turf, we pride ourselves on delivering family-friendly treatments and providing a 100% satisfaction guarantee. We're not just a lawn service; we're your partners in creating a beautiful and inviting outdoor space. Let us show you the difference our exceptional lawn care services can make.
Services We Provide in Your Area
Image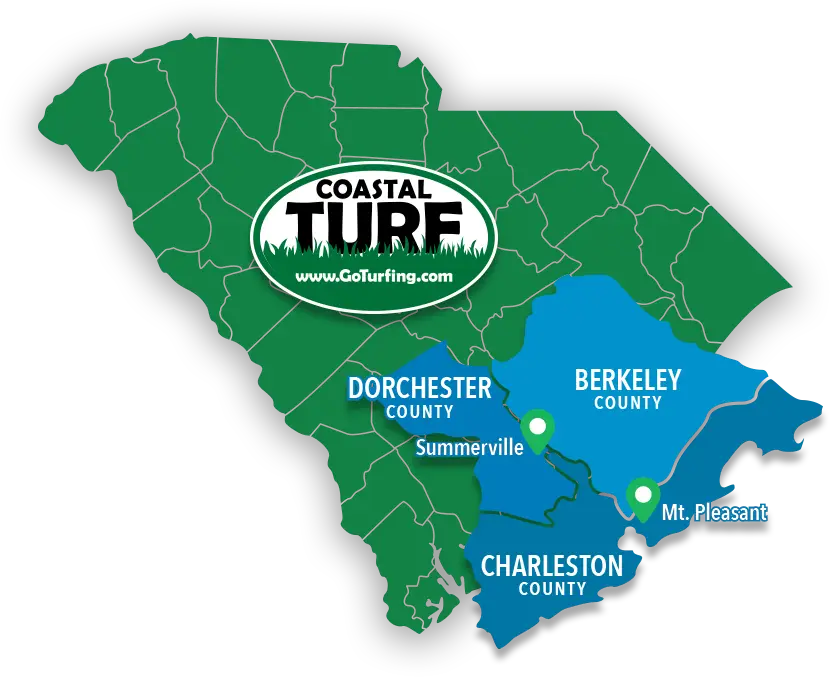 Support a Local Lawn Care Company
Creating and maintaining a stunning lawn in the beautiful city of Myrtle Beach can be a challenge. However, at Coastal Turf, our top-notch lawn care services are specifically designed to cater to the unique needs of your lawn in this tropical climate. 
Our lawn care program includes the following:
Thorough Lawn Inspection: Our knowledgeable lawn care technicians will conduct a comprehensive inspection of your lawn to identify any issues such as brown spots or thinning grass. 
Effective Pre & Post Emergent Treatments: To prevent weeds from taking over your lawn, we utilize both pre and post emergent treatments. 
Customized Lawn Fertilization Applications: Our lawn care program includes a precise soil test and targeted fertilizer treatment plan that promotes root growth and nutrient uptake.  
Fire Ant Control: Our technicians will treat existing ant hills to eliminate the outdoor pest. 
With our professional lawn care services, you can achieve a healthy and vibrant lawn in Myrtle Beach. Say goodbye to worries about brown spots, thinning grass, or weed infestations. Let us take care of your lawn so you can spend more time enjoying it with your family and pets. Contact us today to learn more about our lawn care program and get started on the journey to a beautiful and thriving lawn.
Weed Control in Myrtle Beach
Living in Myrtle Beach, we understand the frustration of dealing with common, persistent weeds that take away from the beauty of your lawn. From the troublesome crabgrass to the invasive dandelion and everything in between, our expert lawn care technicians are well-versed in tackling the unique weed challenges that plague our local area.
Our weed control service includes: 
Environmentally-Friendly Weed Treatments: Our exceptional lawn care services prioritize the safety of your family and the environment. That's why we use EPA-approved formulas to keep your grass weed-free. Say goodbye to unsightly weeds without worrying about harmful chemicals.
Year-Round Weed Control: At Coastal Turf, we understand that preventing weeds from germinating is key to maintaining a beautiful lawn. Our highly-trained lawn care technicians provide year-round weed control solutions to keep your grass looking pristine no matter the season.
Ongoing Monitoring: We are committed to delivering the best lawn care service in Myrtle Beach, and that includes ongoing monitoring of your lawn's weed situation. Our team stays up to date with the latest industry standards to ensure we provide you with the most effective weed control methods available.
Aeration in Myrtle Beach
With our cutting-edge liquid aeration technique, we remove excess thatch and revitalize your lawn in a way that traditional methods simply can't match. By infusing your soil with the perfect balance of air, water, and nutrients, we unlock the full potential of your turf, allowing it to thrive like never before. 
Benefits of liquid aeration:
Healthier Roots: Our liquid aeration service is designed to improve your soil's water-holding capacity, allowing your grass's roots to reach deeper and spread further. This encourages more robust root growth, resulting in a stronger, greener lawn.
Improved Nutrient Uptake: By loosening the soil structure, our liquid aeration service opens up channels for nutrients to reach your turf's roots faster and more efficiently. This supports healthier leaf growth and results in a lush, beautiful lawn.
Quicker Results: Unlike traditional aeration methods, our liquid aeration service is fast-acting, providing you with visible results within weeks. You can enjoy the full benefits of your lawn care investment sooner rather than later!
Sod Installation in Myrtle Beach
Starting a lawn from seed requires a substantial commitment of both time and effort, with no guarantee of success. Why take the risk when you can skip ahead to the lush lawn you desire? Our sod installation service provides immediate results, saving you valuable time and ensuring a green and healthy lawn from day one.
Our sod installation service includes:
A full evaluation of the installation area.
Soil analysis to determine the right grass for you.
Full preparation, including soil treatment and fertilizing.
Re-grading and leveling if needed.
Complete aftercare including lawn management and follow-up visits.
And more!
Tree and Shrub Care in Myrtle Beach
Transform your yard into a breathtaking oasis with our top-notch Tree and Shrub Care in Myrtle Beach. At Coastal Turf, we are passionate about the beauty and significance of a well-maintained landscape. Let us pamper your trees and shrubs, providing them with the love and care they deserve to thrive and add incredible character to your property.
Our tree and shrub care program includes the following:
Comprehensive Property Inspection: We conduct a thorough assessment of your entire property to determine the specific needs of your trees and shrubs. This allows us to develop a customized care plan tailored to maximize their health and beauty.
Environmentally-Friendly Treatments: Rest assured that our tree and shrub care practices are environmentally-friendly. We utilize horticultural oils and other sustainable techniques to protect and nourish your plants without causing harm to the ecosystem.
Year-Round Care: Our dedicated team is committed to providing year-round care for your trees and shrubs. From root care to young foliage care, we ensure that your ornamentals receive the attention they need in every season to flourish.
Disease and Insect Protection: Protect your plants from common tree and shrub diseases in Myrtle Beach, SC. Our expert team is well-versed in identifying and preventing diseases caused by pests, such as aphids, whiteflies, caterpillars, mites, and beetles.
Ongoing Monitoring: We understand the importance of continuous monitoring to maintain the health of your trees and shrubs. Our professionals keep a close eye on your plant's condition, promptly addressing any concerns that may arise.
Mosquito Control in Myrtle Beach
Nestled on the stunning coast of South Carolina, Myrtle Beach boasts a lush environment that unfortunately attracts a high population of mosquitoes. With its warm and humid climate, these blood-sucking pests thrive in the area, posing a significant threat to the well-being and comfort of residents. 
Our effective mosquito treatment includes:
Free Inspection: Our team will assess the mosquito population in your yard, providing valuable insight into the severity of the issue.
Fogging: Highly-trained professionals will employ fogging techniques to target and eliminate mosquito breeding areas, ensuring long-lasting results.
Family-Friendly Liquid Sprays: We use safe and effective liquid sprays to create a barrier around your yard, keeping those annoying insects at bay without compromising the well-being of your loved ones.
Larvicides in Targeted Areas: Our experts strategically apply larvicides to specific areas, effectively interrupting the mosquito life cycle and reducing their overall population.