What kind of problem are you having? Select all that apply.
Lawn Care in Pawley's Island
Welcome to Coastal Turf, your local lawn care experts in Pawleys Island, SC. With over 18 years of experience, we are committed to providing exceptional service and family-friendly treatments that will transform your lawn into a lush and vibrant oasis.
Our services include:
Lawn Fertilization
Weed Control
Aeration
Sod Installation
Tree & Shrub Care
We are so confident in the quality of our service that we offer a 100% satisfaction guarantee. Trust us to provide the exceptional lawn care you deserve. Contact us today and experience the Coastal Turf difference.
Services We Provide in Your Area
Image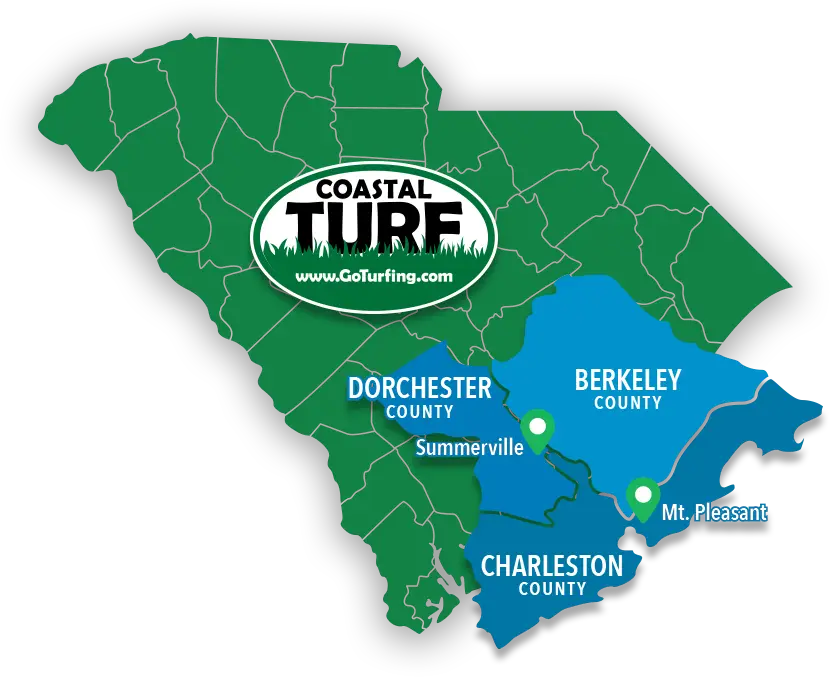 Local Lawn Care Company With Local Knowledge
At Coastal Turf, we understand the unique challenges that Pawleys Island's climate poses for lawns. Our team is equipped with the knowledge and expertise to overcome these challenges and keep your lawn looking its best all year round. 
Our expert technicians will provide you with a comprehensive lawn care program, including:
Thorough lawn inspection to identify and address brown spots and thinning grass
Pre and post-emergent treatments to prevent and control weeds
Customized lawn fertilization applications for optimal growth and nutrient uptake
Aeration to remove thatch and strengthen your turf
Fire ant control that will eliminate outdoor pests
Weed Control in Pawley's Island
Our professional lawn care technicians are highly trained and well-versed in the common persistent weeds that plague Pawleys Island. We understand the unique challenges faced by homeowners in this area and have designed our weed control strategies accordingly. We tackle a variety of weeds that are known to thrive in Pawley's Island, including crabgrass, nutsedge, dandelion, clover, chickweed, thistle, and more. 
Our weed control service includes:
Eco-Friendly Treatment: We prioritize the safety of your family and the environment with our environmentally-friendly weed treatments. Our lawn care services use EPA-approved formulas to keep your grass weed-free.
Year-Round Weed Treatments: Coastal Turf offers year-round solutions to prevent weeds from germinating.
Monitoring: This service includes continuously monitoring the weed situation in your lawn. 
Aeration in Pawleys Island
When it comes to maintaining a healthy lawn in Pawleys Island, lawn aeration is key. And not just any aeration, but liquid aeration. It's the secret weapon that promotes healthier turf, removing excess thatch, and providing quick and long-lasting results.
The benefits of lawn aeration include:
Reduction of soil compaction: Compacted soils can cause water to run off more quickly. Liquid aeration helps to loosen the soil, allowing water and nutrients to penetrate deeper into the grass roots.
Enhanced root growth: Aeration helps reduce thatch build-up, enabling grass roots to grow deeper and stronger.
Stimulated seed germination: A liquid aeration treatment can stimulate the germination of grass seed, resulting in a greener and healthier lawn. 
Sod Installation in Pawleys Island
Transform your lawn with Coastal Turf's professional sod installation service in Pawleys Island. No more waiting for seeds to grow or worrying about the outcome. Our team guarantees the lush, green lawn you desire.
With our sod installation service, you can expect:
In-depth inspection of your lawn to identify the best approach
Soil testing to determine the perfect grass variety for your specific needs
Leveling and preparation of the installation area for a flawless finish
Comprehensive aftercare, including lawn management and follow-up visits
Choose the top-rated sod company in Pawleys Island and experience the difference. Say goodbye to patchy and thin grass and hello to a vibrant and healthy lawn. Contact us today for a free consultation and let's transform your outdoor space together!
Tree and Shrub Care in Pawleys Island
At Coastal Turf, we provide comprehensive tree and shrub care services to maintain and improve the health of your trees and shrubs. Our team is comprised of certified arborists who have the knowledge and experience to keep your trees and shrubs looking their best.
Our tree and shrub care services include:
Full property inspection to determine the needs of your ornamentals
Customized care plan tailored to address their specific requirements
Year-round service includes root care, horticultural oils, and young foliage care
Protection against various insects such as aphids, whiteflies, caterpillars, mites, and beetles.
Tree and shrub fertilization and disease protection
Drought protection during the summer months
Mosquito Control in Pawleys Island
Protect your family from the dangers of mosquito-borne diseases in Pawleys Island, SC with our expert mosquito control service. We offer a comprehensive solution tailored to your specific needs.
Here's what you can expect when you choose us:
Free inspection: Our team will assess the mosquito population in your yard to create an effective treatment plan.
Fogging: We use advanced fogging techniques to target breeding areas and eliminate adult mosquitoes.
Family-friendly liquid sprays: Our treatments are safe for children and pets, ensuring your loved ones are protected.
Larvicides in targeted areas: We apply larvicides to prevent mosquito larvae from developing, reducing the population over time.
With Pawleys Island's climate and geography, seasonal mosquito control is essential. Don't let these pests ruin your outdoor gatherings. Trust our experienced professionals to provide effective mosquito treatment and prevention. Safeguard your loved ones today.